In Death's Dream Kingdom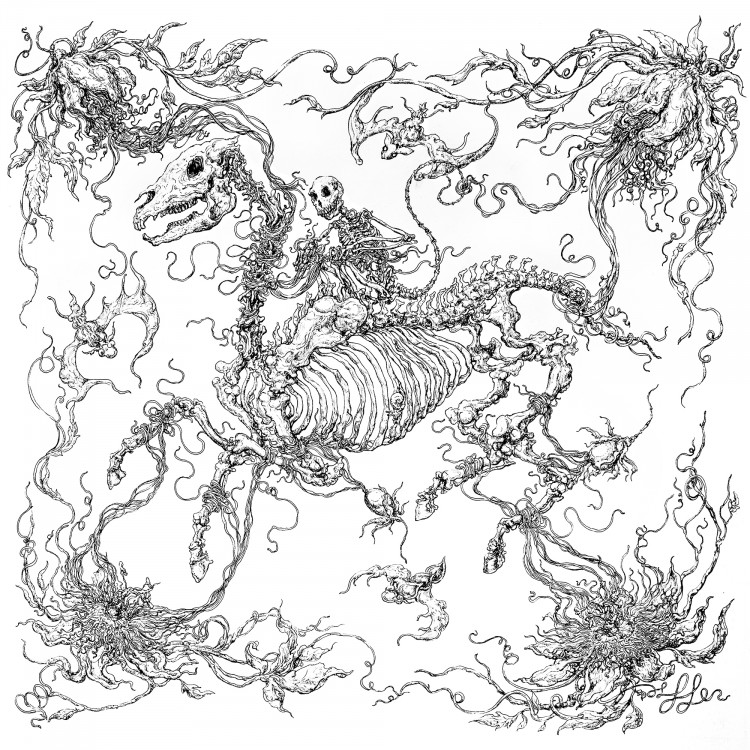 Buy - Individual tracks via Bandcamp 0.79p
Order - Limited Edition Fine Art Print & WAV Files £30.00
Order - Full 25 track bundle (mp3 or WAV) £9.99
It represents a complete rethink about what it means to compile and commission music in the streaming era – and the tracks and seductively dark atmospheres conjured as a result are exploring all kinds of new sonic territory, too. In short, the cream of leftfield electronic talent have been given a brief: to take the phrase "in Death's dream kingdom", or the whole of TS Elliot's poem The Hollow Men from which it comes, as inspiration. The resulting 25 tracks will be released, one by one, together with further online texts, and extraordinary artwork by
Jazz Szu-Ying Chen
, to build into a new kind of audio-visual artefact. Not an album in the traditional sense, certainly more than just a playlist, it brings together a seriously diverse array of talents into a coherent whole with a vivid aesthetic reverberating through it. It occupies a similar space to the great home listening electronica acts of the 90s – Future Sound Of London, Global Communication, the Artificial Intelligence axis – but there are no throwbacks here: this is radical in sound and thought. Dark music for dark times.
It's a well-deserved chance for the label to flex its creative muscles. Just over a year ago, and only three years into its existence, fabric's offshoot label Houndstooth was staring death in the face. The closure of the fabric club would have meant the end for the increasingly exciting Houndstooth. Thankfully, not least because of the grassroots support of fabric's clubbers and the people who buy and stream the labels' music, it survived – and Houndstooth came back with redoubled determination to push boundaries. 2017 has seen albums on the label by label stalwarts Call Super, Special Request, Guy Andrews, Second Storey and Throwing Snow, all of which have ended up in the upper reaches of critics' favourite lists for the year. Not only that, but the collective subconscious seems to be catching up with Houndstooth's aesthetic as film and TV sound design and soundtracking start to dig into the same strange spaces. Now they are expanding the label's remit massively, to bring in a huge range of artists who they admire and who share the label's commitment to testing boundaries.
Artists from the far corners of the art, noise and ambient avant-garde like Abul Mogard, Pan Daijing and Roly Porter sit alongside club and bass producers like Hodge, Batu and Peder Mannerfelt and genre evaders like Gazelle Twin, Pye Corner Audio and rising star of the leftfield Lanark Artefax. Meanwhile, Jazz Szu-Ying Chen – a Rotterdam-based Taiwanese artist who has exhibited worldwide, including wall and window art in Chelsea & Westminster Hospital alongside Brian Eno's lightbox works – has created a stunning visual identity inspired by the same text that amplifies and enriches the emotional and intellectual intensity of the music. It may be a "post-album" project, but IDDK has set out a new blueprint for a virtual artwork that can be loved and treasured just as a favourite album would be.