Aïsha Devi - DNA Feelings - OUT NOW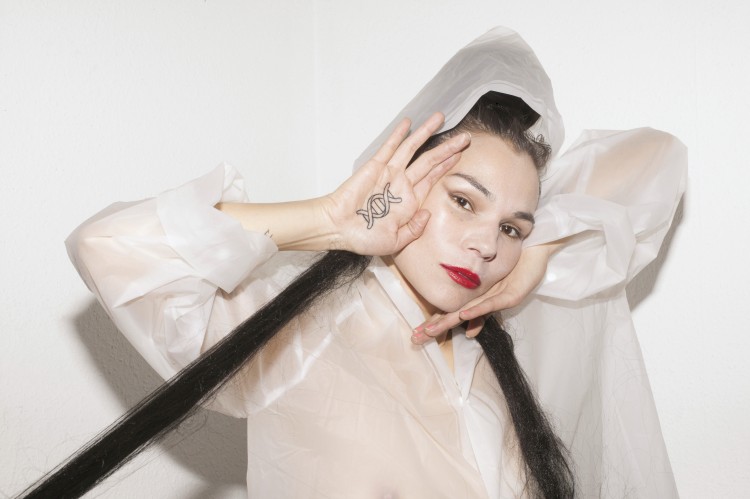 Fresh from being profiled in an extensive feature for The Wire magazine, Aïsha Devi presents her DNA Feelings. Mixing in the sound of rave stabs, thumping beats, seraphic and guttural throat singing, mystical linguistics and corporeal sonics. DNA Feelings cuts to the bone for a truly transcendent experience.
Check our socials for news of an upcoming guest mix for Tom Ravenscroft on BBC 6 Music - and *hopefully* a live performance on the same show at a later date - aiming for 15th June.
Bleep.com Album of the Week - fantastic reviews on
Pitchfork
, The Quietus, Wire Magazine, Clubbing Spain, Irish Times and Album of the Day on
Bandcamp
, and with excellent reviews for her brand new A/V live show at Mira Festival last week, the rest of the year is looking very busy for Aïsha taking her new live show across the globe.
Look out for further updates from Aïsha Devi on https://www.aishadevi.com
09 Mar - Istanbul, IndieCity @ Salon IKSV (Tickets)
17 Mar - Lisbon @ Musicbox (Tickets)
24 Mar - Azores Tremor @ Arquipelago (Tickets)
05 May - Berlin MIRA @ Funkhaus (Tickets)
12 May - Lyon @ Nuits Sonores (Tickets)
16 May - New York @ Elsewhere Zone One (Tickets)
17 May - Los Angeles @ The Echoplex (Tickets)
19 May - Moogfest @ Durham, North Carolina (Tickets)
24 May - Vienna @ Hyperreality (Tickets)
02 Jun - Leipzig @ Balance (Tickets)
09 Jun - Rewire @ Schauspielhaus Zürich (Tickets)
14 Jun - London @ Oslo (Tickets)
22 Jun - Lanzarote @ Keroxen
28 Jun - Geneva @ La Gravière
29 Jun - Toulouse @ Les Siestes
01 Sep - Bourn, near Cambridge @ Wysing Polyphonic Festival (Tickets)
08 Nov - Barcelona @ MIRA Festival (Tickets)
More dates added soon.